About Us
XINHUA, built in 1998, is a scientific and technological enterprise specializing in R&D and production of nickel alloys. Since its establishment, XINHUA has been committed to providing high quality alloy products and services for the industries that involve various severe environments. Our products mainly include nickel alloy, electrical resistance alloy and nickel alloy welding material. Available product forms are forging, sheet, bar, pipe, wire, strip, etc. Due to superior quality and special properties, these specialty metal alloys are widely used for various fields such as industrial furnace, civil nuclear power, power station boiler, special welding, petrochemical engineering, aerospace industry, marine service, communication electronic instrument, etc.
Now, XINHUA has become one of the significant nickel alloy production bases in China. In our workshops which cover total 36,800m2, we have a one-stop production line including smelting, vacuum melting, electroslag remelting, forging, hot rolling, machining, heat treating, wire drawing, steel strip cold rolling, etc. The major equipments include vacuum melting furnace, medium-frequency induction furnace, and electroslag remelting furnace, as well as electro-hydraulic hammer and air hammer for forging. In addition to production equipment, we also possess all kinds of test equipment used for chemical analysis, spectrum analysis, ultrasonic inspection, mechanical test, high temperature tensile, shock test, hardness measurement, bending test, metallographic analysis, etc.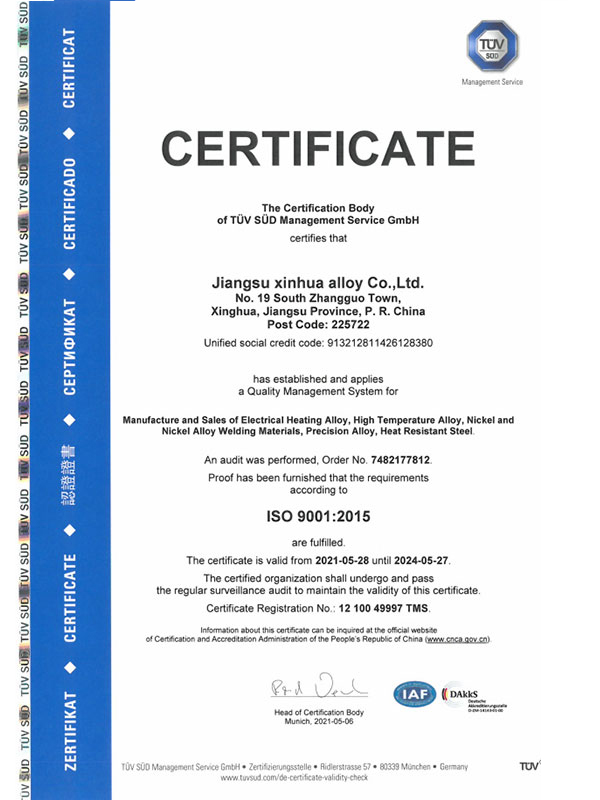 Our company has great technology strength and new product R&D capability. So far, we have obtained many patents, including five invention patents, nine utility model patents and others. Through cooperation with many domestic scientific research institutions, we have developed multiple new products. Quality orientation and product innovation is the permanent concept we follow.